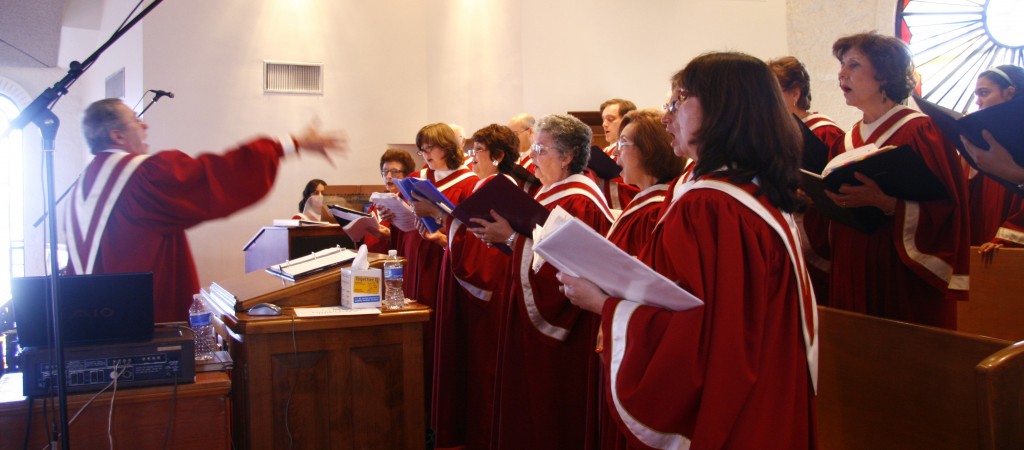 Participating in divine worship services as choir members is a sacred responsibility, not to be taken lightly. Choir members, as other church musicians, offer their God-given talents to the faith for a variety of reasons. For most, it is a part of their stewardship ( the giving of their "time and talents.")
For others, it is something that is enjoyed and for still others, it is a social outlet. In Orthodox services, choir members represent the laity, responding to the liturgical dialogues set by the priest. This places a sacred responsibility on them during our worship services. They are called to be knowledgeable not only of the hymns and responses, but also about the correct order of the worship services. The choir is entrusted to be a participating part of the worship services and its members must respond to that trust accordingly.
Our group is made up of dedicated parishioners, young and old, with varying degrees of musical experience, and numbering as many as twenty-five members.
We are all on an enjoyable "learning curve" and meet for rehearsal on Thursday evenings from 7:00 to 8:30 PM in the choir loft of the church. We welcome your interest and participation in our group!
Jim Hronas
Choir Director
Please contact Jim Hronas through the church office at (626) 449-6943 for more information.
Come Sing With Us!!