FATHER PETER STRATOS
Fr. Peter Stratos, is currently the head pastor for Saint Anthony Greek Orthodox Church in Pasadena, California.
Reverend Peter Stratos was born on May 25th, 1957 to his parents Peter and Alice Stratos in Charlottesville, Virginia. He was raised there, being the oldest of four children. He has one sister Theodora, and two brothers Gregory and Christopher. He attended local schools and was a very active member at the Transfiguration Greek Orthodox Church. From the early age of six, Fr. Peter was an altar boy and a permanent fixture in God's sanctuary. His faithful grandmother Eleni had a very positive influence on her grandson and patiently taught him the importance of prayer and memorizing and reciting the Lords Prayer (Pater Imon) and the Creed (Pistevo) as a young child. His loving parents also insisted that he attend church every week because they valued worship to God and its importance in their young children's lives. Fr. Peter completed and graduated from High School in June of 1975.
In September of that same year he attended Elon College in North Carolina and graduated in 1980 with a Bachelor of Arts Degree in Political Science. After college he worked for numerous years in Food Service Management, and for four years as Senior Loan Officer in the Mortgage Banking Industry.
In 1991 Fr. Peter's work transferred him to Orange County, California, where he quickly became an active member of St. Paul Greek Orthodox Church in Irvine. During his years at the churches of the Holy Transfiguration in Charlottesville, and St. Paul in Irvine he continually served in the altar, sang in the choir, chanted and served for many years on the Parish Council.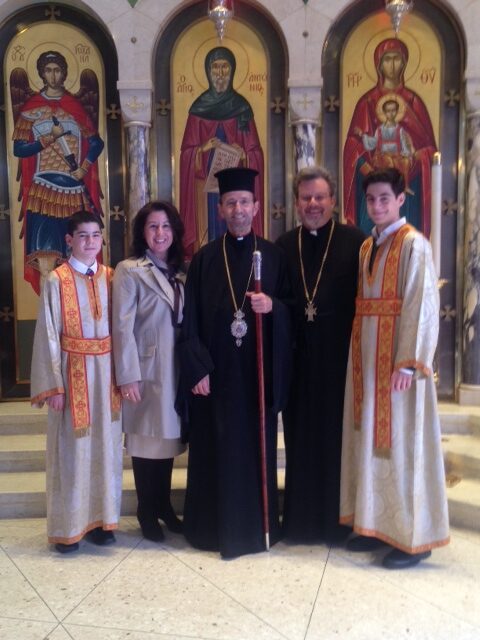 It was at St. Paul's OCF that he met, fell in love with, and on June 26th of 1993 married his devoted wife Presbytera Aida. On February 29th, 1996, their first son Peter Constantine was born. In August of that same year, the family embarked on a life changing decision. With the blessings of both Reverend George Stephanides, of blessed memory and Metropolitan Anthony, of blessed memory, Fr. Peter enrolled at Holy Cross School of Theology in Brookline, Massachusetts to study for God's Holy Priesthood. And with their small baby the couple moved to Massachusetts. On July 30th, 1998 their second son Nicholas Theodore was born in Boston. In May of 2000 Fr. Peter graduated with honors from Holy Cross Greek Orthodox School of Theology with a Master's of Divinity Degree.
In June of that year Metropolitan Anthony assigned Fr. Peter to Saint Nicholas Greek Orthodox Church in Northridge, California as a lay assistant. His responsibilities included teaching 5th and 7th grade religion courses at the St. Nicholas Parochial School, chanting in the Church, and serving in the Holy Altar.
On January 7th, 2001 Metropolitan Anthony of San Francisco ordained Fr. Peter to the Diaconate, and he continued to serve the community of Northridge. On his name day, June 29th of that same year, Metropolitan Anthony ordained Fr. Peter to the Holy Priesthood at St Nicholas in Northridge. He served faithfully at this very large, active and busy parish, continuing his duties at the Parochial School, serving at all Liturgies and services, countless sacraments, advising the GOYA groups and Sunday School Department. These four wonderful years at Saint Nicholas in Northridge were filled with joy and excellent preparation for Fr. Peter's next assignment. In August of 2004 Metropolitan Anthony, of blessed memory, assigned him as the Pastor of St. Nectarios Greek Orthodox Church and Shrine beginning September 1st. His first responsibility was to plan and organize the upcoming Consecration of the Church on November 7th, 2004. After a beautiful and moving Consecration
with Metropolitan Anthony, Fr. Peter and the community worked diligently to continue the beautification of the Church and grounds. The smaller wing of the Fellowship Hall was converted to classrooms for Sunday and Greek School classes; further iconography and stained glass windows were added to the dome and side walls of the Church; and the Wednesday Evening Paraklesis and Bible Study attendance grew substantially in attendance.
After two years at the Shrine and Parish of Saint Nectarios, Metropolitan Gerasimos, assigned Fr. Peter to Saint Anthony in Pasadena. Fr. Peter was to pastor his new community with the assistance and companionship of his dear friend and brother in Christ, Fr. Efstathios Mylonas, who hoped to enjoy a blessed retirement with his family and community. However, Fr. Mylonas was called to meet his Lord shortly before Fr. Peter's first Sunday. With heavy hearts, Metropolitan Gerasimos, Fr. Peter Stratos, Fr. Spencer Kezios, 38 more priests from our Metropolis, and hundreds in attendance, laid their brother to rest. And with this unexpected beginning, Fr. Peter and his young family embark on a new and even more meaningful chapter in their service to Christ's Holy Church.