Prayer for the dead is an essential component of our faith in Jesus Christ. Praying for those who have died is not merely an expression of mourning – it is a proclamation that Christ has risen from the dead and that, in His love, even death cannot separate us from one another!
Forty days after the death of a loved one (or on the nearest Sunday to the 40 days), it is the custom of our Church to celebrate a prayer service in remembrance of the deceased known in English as a Memorial Service. In this service we ask God to "grant rest" to the deceased "in the bosom of Abraham" (Luke 16:22-23) and to place him/her "in a place of light, a place of happiness, a place of refreshment, where there is no pain, no sorrow and no suffering" (Revelation 21:4) as we did during the funeral service.
A tray of boiled wheat, raisins and powdered sugar called "kolyva" in Greek is prepared for the service and is later, at the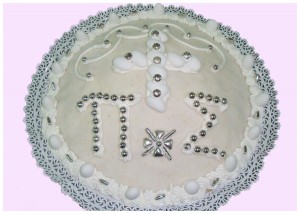 parish coffee hour, distributed to the community. This practice is based on the words of the Lord Jesus used to describe His own death and resurrection, "Amen, I say to you: unless a grain of wheat falls into the earth and dies, it remains a single grain of wheat. But if it dies, it brings forth a good harvest" (John 12:24). The tray of kolyva is a symbol of our faith in the life giving death and resurrection of Christ.
If you do not know how to prepare a tray of kolyva, arrangements can be made for its preparation by calling the office
In addition to the 40 day Memorial Service, Memorial Services are normally held annually on or near the anniversary of the loved one's death. The parish office must be informed of the family's intention to offer a Memorial Service at least two weeks prior to the desired date.
**Please note that, in keeping with the ancient way in which we conduct our worship, Memorial Services may not be prayed on the Saturday of Lazarus through the Sunday of Thomas, on any Feastday of the Lord or any Feastday of the Virgin Mary.
Everyone is also encouraged to remember their departed loved ones annually on the Saturdays of Souls associated with Great Lent and the celebration of Pentecost.