The Saint John Chrysostom Oratorical Festival is a program for teenage youth sponsored by the Greek Orthodox Archdiocese of America. The purpose of the festival is to give our youth an opportunity to learn, right, and speak about their Orthodox faith and heritage.
Our parish festival usually takes place between January and March.
The oratorical Festival is divided into three divisions:
Elementary division (local festival only) for students in grades 4-6
Junior division for students in grades 7-9
Senior division for students in grades at 10-12
Finalists from junior and senior divisions advance to the district festival. Finalists in each district division represent the district at the Metropolis Oratorical Festival. The first place speaker in each Metropolis division is then selected to participate in the Archdiocese finals, which is hosted by a different Metropolis each year. The Oratorical Festival scholarship fund provides college scholarships to the top speakers. All finalist at the Archdiocese finals participate in a weekend of activities, the highlight of which is the delivery of their speeches, essays or poems on Saturday morning.
2015 St John Chrysostom Oratorical Festival
Saint Anthony Parish Competition
We are proud to announce that 22 of our marvelous GOYAns participated in the St. John Chrysostom Oratorical Festival on Sunday, February 1, 2015.
In the Speech Competition, the following young people presented their most thoughtful and eloquent ideas before their peers, family, friends, Sunday School teachers, and three Guest Judges:
Jr. Level: Niko Exarchoulakos and Fotoula Exarchoulakos.
Sr. Level: Tommy Christopoulos, Ioannis Exarchoulakos, Billy Fuerst, Alexander Gallagher, Katerina Kamar, Nick Stratos.
Their speeches were inspiring, and a source of great encouragement for the future of our Church and Orthodox Faith. Each judge took the opportunity to address the speakers after they completed their deliberations. They each commented on the very high and impressive quality of content of the speeches. They were deeply touched by all the speeches, and they faced difficulty in their selections. A tremendous compliment to every speaker and to the finalists alike. All speakers who do not advance were awarded Honorable Mention. We congratulate our speakers and their parents. We are very proud to announce the following speakers (2 from each level) who will represent St. Anthony at the So Cal District Level on April 19, 2015 at St. John the Baptist, Anaheim:
Jr. Level: Niko Exarchoulakos and Fotoula Exarchoulakos. Sr. Level: Katerina Kamar and Billy Fuerst. We wish them the best, and hope that many from our parish will go to Anaheim on April 19th to support them.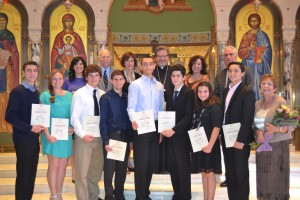 We also had 13 participants in the Essay portion of the Competition. Their thoughtful works will be judged in a separate format and the finalists to advance to the Metropolis Level will be announced on April 19, 2015. Those Essayists who advance to the Metropolis Level will be invited, along with advancing speakers, to attend the Metropolis Oratorical Festival. The following are the Essayists, (most of whom were present to support our speakers on Sunday).
Jr Level: Sara Arviso, George Gallagher, Ariana Saigh, Julianna Tetreault, Kostantinos Tsigkounis. Sr. Level: Christina Dupas, Panagiotis Giannoulias, Taso Giannoulis, Sotiria Glyptis, Caleb Lockwood, Kyriaki Tsigkounis, Christos Vagenas, Electra Williams.
Our Junior Poetess, Alexandra Patzakis, who was the 1st Place Winner for Jr. Poetry at the 2014 National Oratorical Festival Competition is also participating again in the Poetry Division.
We thank our illustrious judges for their time, expertise, and encouraging words to our young participants:
Dorothea Love, a past Oratorical Parish Chairman at Saint Anthony and Saint Paul, Sunday School teacher, choir member, and former Saint Paul Philoptochos president. She currently leads the Women's Study Fellowship classes at St. Paul's.
Christine Hasircoglu, a 2002 finalist in the Southern California District Oratorical, who competed at the Metropolis level, a Graduate of USC with Bachelor Degrees in Political Science and Religion, and a Master of Arts in Teaching.
Dean Zanetos, Member of Saint Sophia Cathedral. Currently working in the entertainment industry.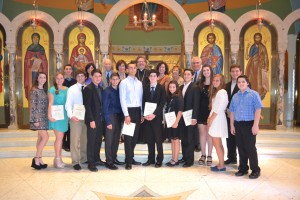 We would like to thank, once again, all the Youth Participants, their dedicated parents, Mr. Sam Dallas, Mrs. Irene Albeck, Mrs. Kathy Tsigkounis, Maria Grover, Anastasia Kalivas, Judie Christopoulos, Nick Kleissas, John Vidalakis, Ted Attalla, Pres. Aida Stratos for their participation and contributions to a wonderful Oratorical Festival. May the Lord continue to bless you and our loving St. Anthony Parish family.
In Christ,
Rev. Peter Stratos Mrs. Athena Dallas
Proistamenos Oratorical Festival Chairperson