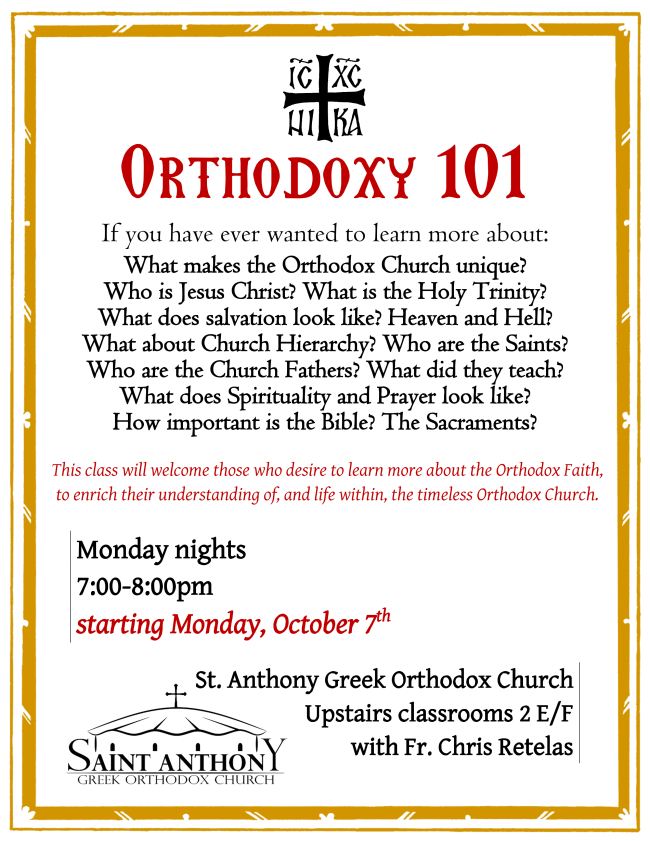 ORTHODOXY 101 – A [RE]INTRODUCTION TO ORTHODOXY
This class will welcome those who desire to learn more about the Orthodox Faith, as well as those who already embrace the Faith, wishing to enhance and enrich their understanding of, and life within, the timeless Orthodox Church.
Monday nights, 7:00-8:00pm, from October 7th to December 16th
St. Anthony Greek Orthodox Church
Upstairs classrooms 2 E/F, with Fr. Chris Retelas
Will discuss such topics as:
What is the Orthodox Church? How do we understand the person of Jesus Christ? The Holy Trinity? What is Salvation? Heaven and Hell? The Saints? The Church Fathers? The Bible? The Sacraments? Spirituality and Prayer?
ALL ARE WELCOME TO ATTEND! INVITE A FRIEND!